THORNYDALE FAMILY CHURCH
FOUR PHASE PLAN FOR RESUMING IN PERSON WORSHIP GATHERINGS
Over the past several weeks, you may have seen articles and social media posts about "re-opening the church". As we've said frequently before, the church has never been closed. The church is not a building, or even an organization. The church consists of the people who have been called by God to be disciples of Jesus. Therefore, the church belongs to Jesus alone and He builds His church. Nothing, not COVID-19, nor even the gates of hell, will prevail against it. So the church as a universal body and local churches like Thornydale Family Church have always been open – open to love God and to love others, open to share the gospel and pray and serve needs, and open to experience the grace and forgiveness of Jesus.
It is important to remember that when familiar passages like Hebrews 10:24-25 were written, the early church did not meet in large groups. There were certainly no megachurches and most of the gatherings were in smaller groups which met in small synagogues and in homes. It is doubtful that many of those groups even approached the size of our church. So even over the past couple of months we've still been gathering as the church, even though we've had to do that differently.
And let us consider how to stir up one another to love and good works, not neglecting to meet together, as is the habit of some, but encouraging one another, and all the more as you see the Day drawing near. (Hebrews 10:24–25 ESV)
But that doesn't mean that we're not all eager to resume meeting in person again. Since March 22, we have been unable to do that, but in the coming days we are hopeful that we will be able to begin to move forward with our plans to resume in person gatherings as soon as it is reasonable and wise. Out of concern for those who are most vulnerable in our church and in our community, we will do that cautiously and in a manner that adheres to guidelines provided by local, state and federal officials. We will gradually introduce opportunities for in-person gatherings in addition to the online experiences we have been offering over the last couple months in four phases: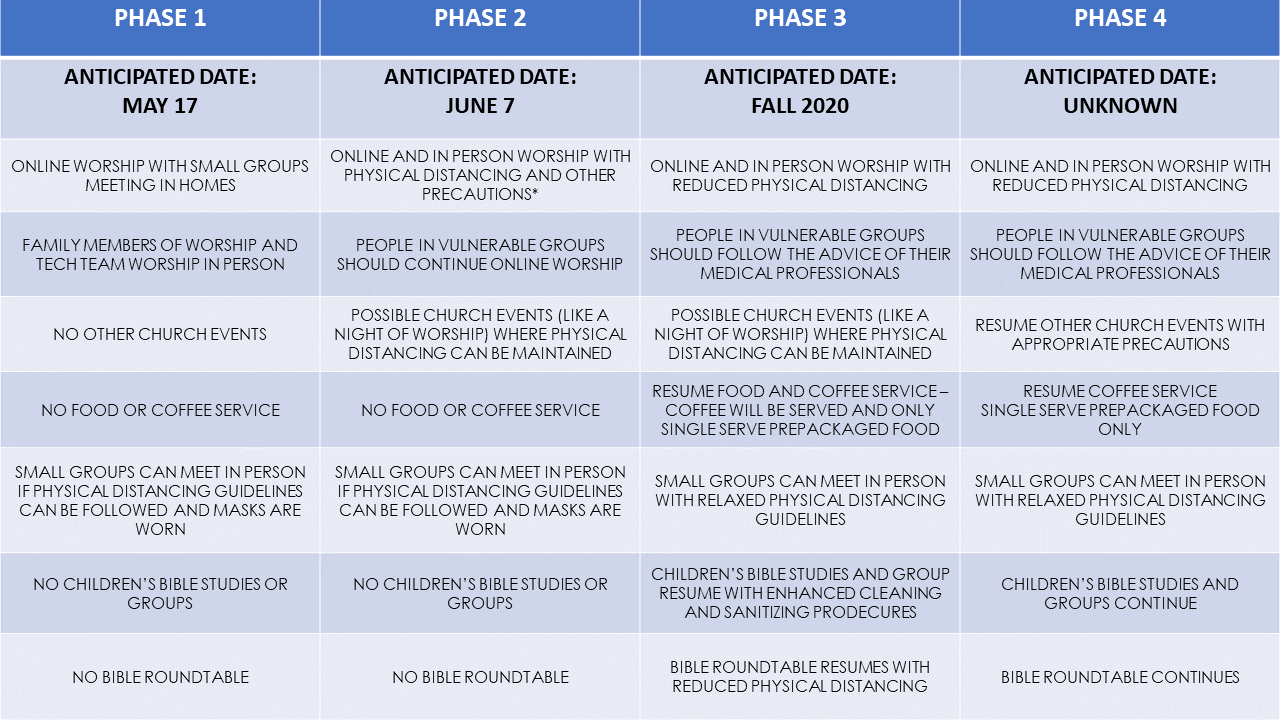 *Precautions include, but are not limited to:
Arrange seating to provide 6 feet between family units.
Propping open doors and controlling traffic flow.
Eliminating handouts (church members will be provided these items in an electronic form so they can print them out at home)
Hand sanitizer stations provided throughout the building.
Strongly recommend the wearing of masks for everyone (children 2 years old and under are exempted)
No passing of offering plates. Offering collection boxes will be provided in the lobby and auditorium.
Discouraging handshakes, hugs and other forms of physical contact.
These precautions and the projected dates for each phase are subject to modification as necessary as the situation in our community changes and officials modify existing guidelines or issue new ones. We will continue to do all we reasonably can to protect our church family and our community.
While we expect our in-person gatherings to feel more "normal" when we reach Phase 3, like the rest of society, we expect that the way we interact with each other may look a little different for a while. But even if you see more face masks, and a lot more hand sanitizer, when we gather again in-person, we hope it will feel like coming home.