1 Chronicles 20: "Rabbah Captured and Giants Defeated"
1 Chronicles 20: "Rabbah Captured and Giants Defeated"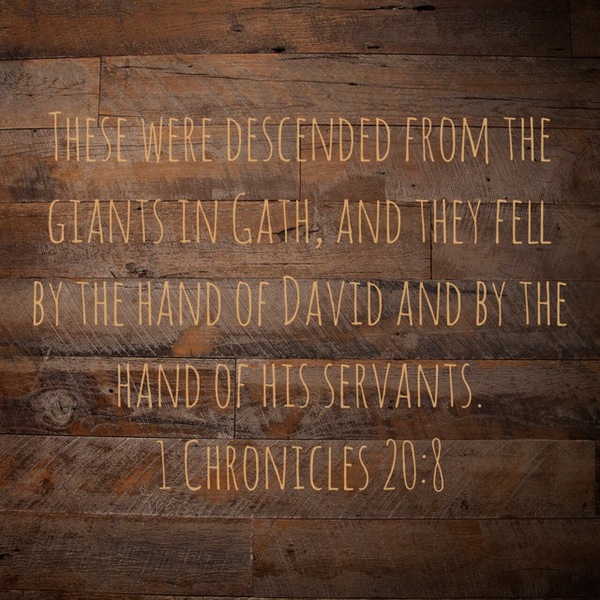 This chapter omits a very well known story in David's life, that it his sin against Uzziah with Bathsheba. In those days, wars usually ceased during the winter time due to harsh terrains and weather, so any ongoing battles commenced in the Spring. This is what we see here, and we read that David stayed in Jerusalem while Joab lead the troops in battle. After this, we see that David rejoins Joab and the soldiers agains the Philistines. Back in 2 Samuel 12:29 we see that David returned to Rabbah and helped Joab defeat the Ammonites, after he was rebuked by Nathan for not being at the battle, and his activities regarding Bathsheba. When he returned, we see that Israel was victorious. Consider what one commentator says about this situation: "David was in victory once again. His sin did not condemn him to a life of failure and defeat. There was chastisement for David's sin, but it did not mean that his life was ruined" (Guzik). Next, we see David and his men victorious again against Philistine, and Goliath's brothers.
What a great lesson regarding our sin. When we are children of God, we have been forgiven through the blood of Jesus. I recently met a man of God who lived a past of illegal activity and spent a lot of time in jail. But, he has been made clean because of Jesus. Just like David, who's sin with Bathsheba wasn't even mentioned here in this account shows that while the Lord does keep account, He also forgives and provides us these victories. Frankly, we have a tendency of holding our sins over our heads more than the Lord does. Sometimes we need to forgive ourselves, knowing the the Lord has already paid the price for that sin. We are no longer slaves to that sin! Thank you Lord for this gift!
#jesus #biblestudy